Columbia, Maryland, renowned for its picturesque views and plentiful sunlight, offers its residents an opportunity that extends beyond enjoying a perfect day outdoors. This radiant sunlight can be harnessed to power your homes, thanks to Turner Roofing Company's top-notch solar installations. We help you transform abundant solar energy into a dependable power source, right at your residence. Our advanced solar installations Columbia MD not only present an eco-friendly alternative to traditional power sources but also significantly reduce your monthly energy expenses. It's a two-fold benefit – as you save on your bills, you also contribute to the global cause of reducing carbon emissions. The decision to switch to solar energy, therefore, goes beyond personal gain. It is about making a choice to promote sustainability, champion renewable energy, and contribute to a greener, more sustainable future. Let Turner Roofing Company be your partner in this worthy cause, delivering quality and reliable solar solutions right to your doorstep in Columbia, Maryland.
Unrivaled Solar Roofing Services in Columbia
At Turner Roofing Company, we take immense pride in offering Unrivaled Solar Roofing Services in Columbia, Maryland. We specialize in transforming both residential and commercial properties into centers of sustainable energy production. Every service we provide is uniquely tailored to the individual requirements of our clients and the specifics of their properties. Our experts conduct thorough site assessments to determine the most efficient configuration and placement of solar panels to ensure optimal sunlight exposure and energy production. With us, you're not only choosing solar power, but you're also choosing a custom-made solution designed for maximum effectiveness and seamless integration with your existing structure.
Prompt Solar Panel Repair in Columbia
Solar panel troubles can crop up unexpectedly, but Turner Roofing Company is prepared with our Prompt Solar Panel Repair services in Columbia. Our team, comprised of highly trained technicians, is on standby to address any issues or damages your solar panels may face. Whether it's a minor hiccup or significant damage, we swiftly identify the problem and execute the necessary repairs to restore your solar panels to their peak performance. As a leading solar roofing contractor in Columbia, MD, we appreciate the significance of minimal downtime. Hence, our repair services are geared to get your solar energy system back to operational status promptly, thereby reducing any disruptions to your power supply.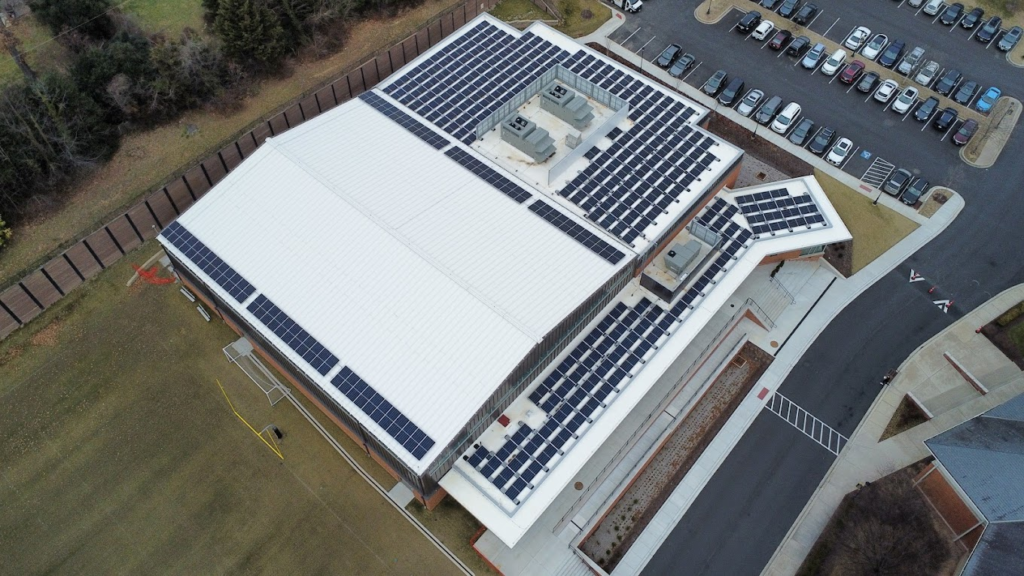 Comprehensive Solar Roof Maintenance
Our commitment to ensuring your solar system's optimal operation shines through in our Comprehensive Solar Roof Maintenance services. Maintaining your panels regularly is key to their efficiency and lifespan. Our services encompass an in-depth cleaning of your panels to clear any dirt or obstruction that could block sunlight, a thorough inspection to preemptively identify and address potential issues, and essential repairs if required. Entrusting us with your solar system maintenance ensures that your investment keeps yielding the highest returns. Moreover, our extensive experience in commercial roofing in Columbia, MD makes us the ideal choice for maintaining your solar roofing.
Efficient Solar Roof Replacement
As time progresses, your solar panels may require replacement due to natural deterioration or advancements in solar technology. At Turner Roofing Company, our Efficient Solar Roof Replacement is an integral service we proudly provide. We acknowledge the necessity to equip your home with the latest and most efficient solar technology available. As a company with countless 5-star reviews, our proficient team ensures minimal disruption to your daily routine by seamlessly handling the removal of your old solar panels and the installation of new ones, guaranteeing a smooth transition.
A Trusted Solar Roofing Contractor in Columbia, Maryland
Turner Roofing Company has long been a trusted solar roofing contractor in Columbia, Maryland. Our reputation has been built on years of dedication, professionalism, and commitment to providing the highest quality services to our clients. We take great pride in our long track record of satisfied customers, successfully completed projects and the outstanding customer service we deliver at every stage of our work. When you partner with us, you're partnering with a dedicated team that prioritizes your needs, listens to your concerns, and works diligently to ensure your solar system delivers optimal performance. Experience the difference of working with a trusted and professional solar roofing contractor by choosing Turner Roofing Company.
Why Trust Turner Roofing Company?
Years of industry experience
Skilled, trained professionals
High-quality, durable solar panels
Competitive pricing
Exceptional customer service
Our Commitment to Sustainability
Our dedication to fostering a sustainable, green future is evident in our work. Our solar solutions, highly praised on platforms like Facebook & Yelp, aid in minimizing reliance on non-renewable energy sources, thus advocating for a healthier environment.
FAQ of Solar Roofing in Columbia, Maryland
Solar roofing is an excellent investment for your home. However, we understand you might have some questions. Here are some frequently asked ones:
Why should I consider solar roofing?
Solar roofing is an environmentally-friendly, cost-effective solution to power your home. It reduces energy bills, increases property value, and provides a reliable power source.
Is solar roofing expensive?
While the upfront cost can seem high, the long-term savings on energy bills and potential tax incentives can make solar roofing a financially sound investment.
How long do solar panels last?
With regular maintenance, solar panels can last 25-30 years or even longer. They may require periodic maintenance to keep them in optimal condition.
Can my roof accommodate solar panels?
Most roofs can accommodate solar panels. However, factors like roof size, angle, and direction play a role in how much energy can be produced. Our team can assess your roof's suitability during the consultation.
Are solar panels resistant to bad weather?
Yes, solar panels are designed to withstand harsh weather conditions. However, in case of damage, our team is available for any necessary repairs or replacements.
With Turner Roofing Company, you can look forward to high-quality solar installation Columbia MD, maintenance, and replacement services. Reach out to us to start your journey towards a more sustainable future.